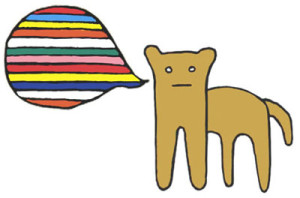 We made it boys and girls!!!
Dan is even shouting most of the colors he can shout in! I think that means he's happy. Well, I'm happy.
Today, thanks to Shula, the owner of Shulamit Gallery, we were able to push the funding over our goal. She pledged $2K because she rocks however!, not just thanks to her, but each and every contribution made so far! It's just as difficult, if not more in some cases for others to pony up money — and do not think that eludes me, it does NOT! It was a LOT of work to get to that 67% mark!
But, I had no idea that I'd be coming back here less than a day later to make such an announcement, and we STILL have 14 days left to go!
Now I have to get to work. I have to write that 10 Commandments book, I have to find those old Joshua Tree postcards. I just have some work to do and I better start early, if I can, with no money in hand. We'll see what I can get accomplished anyway.
Thank you, everyone! Thank you thank you thank you!