I suppose I should mention the bits and pieces of press that the show has been receiving. I can't expect everyone to visit every page on both websites, so I'll announce them here.
Above is a picture from the night of the reception. Curator, Anne Hromadka on the left, Shulamit Gallery owner, Shula Nazarian in the middle, and yours truly on the right. We are standing in front of the largest painting I did for the show called Ladder to Dad (40 x 60 inches, oil on canvas).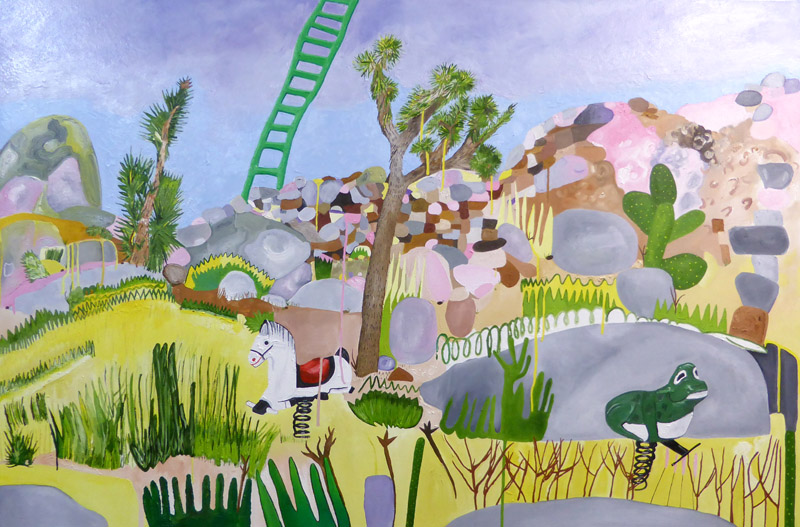 I have more reception pictures on my most recent post at Carol's Bloggie, and a summary of how the reception went over.
But the show is far from over, and there is still a catalog that is going to be released. We are going to be having a catalog release party/panel discussion/closing reception-all-in-one event on April 30th and I'm pretty sure we are going to be doing it right on the beach (since the gallery is just steps away from the beach anyway).
And instead of doing those limited edition DVDs (which is so 1990s anyway) we are going to be releasing the movie on little USB drives instead. I'm pretty sure they come with the catalog, but I need to double check that.
As for press, Exodus was chosen as "Pick of the Week" on LAArtParty by Kathy Leonardo, and then voted as Best Free LA Art Party on LA Weekly by Shana Nys Dambrot.
It was a "Recommended Event" on Artillery Magazine's Calendar Section, as well Glasstire and the Venice Concierge.
I also got a nice review featured in Art Scene by Molly Enholm for the April issue.
And just this week I got a little calendar story written up in the Jewish Journal by Laura Donney.
So, the word is getting out there.