Hello loyal believers in me!
How is everyone? I have had a death in the family, and so I have had a small blip in keeping you updated, but I'm sure you understand. For me, working through it is the best way for me to cope. Everyone is different when it comes this stuff. How do you deal with such things? 
I just thought I'd put out an update on where everything is at so far, but remember, or, please be advised, keep in mind, etc., etc, that we are (I am) still at the starting gate. That doesn't mean, however, that inquiring minds don't wish to know, right?
My Joshua Tree trip is just around the corner! I am leaving on April 25th. As a matter of fact, I just picked up my Sony TRV 900 Handicam from Harry's Camera today. Actually, that's not true. I picked up a loaner. Mine is still being worked on! Apparently the parts that were ordered were faulty and now they are waiting for new, non-faulty ones to come in. They just won't be here in time. In the meantime they gave me the exact same model on loan. What can't cha do?
Other hurdles: the Dan stickers! I was so very excited yesterday when I found out they arrived at Sticky Ricks. If the traffic wasn't  poopy, I would've driven 100 MPH to get there. However, when I showed up and we unpacked the stickers from the box, we noticed that Dan was not the color he was supposed to be. Something terribly wrong happened to his ink and he was too green! Poor Dan looked like he had nausea! Now he has to be reprinted. Other than that, I have to say, these stickers KICK ASS!
Talk about things that are supposed to be green — the bracelets! Those are in production and I got to see a "proof" picture. They look super cool. They say "Exodus" on one part of the band, yet turn them just a little bit, and they say Exodus again – in HEBREW! How cool is that! If you want to know what that will look like, just check out the top left edge of  the website.
I'd like to publicly thank Mark Strunin, the President of Temple Beth Israel, for helping me translate Exodus into Hebrew properly – and for the free mini Hebrew lesson in general. I never knew that the "Exodus" in the Torah's literal translation was "Names." Did you? Well, you probably did. If you're Jewish, you probably went to Hebrew school as a kid. Unfortunately, I missed out on that, but I've heard that learning languages are much easier to learn when you're a kid. At least I like to tell myself that while I am learning Hebrew and Spanish because both have a way of not sinking into my mushy skull.
Anyway, the Exodus that is written in Hebrew in the Torah (Names) did not communicate what I wanted it to for the purpose of this project, so now it does say "Exodus," meaning: The Leaving. I hope that makes sense. Does it? Good.
I've also been working on the layout for the Dan's 10 Commandments (for a Better Life and Hygiene) book. It's still in its baby stages though, but it's getting there. It's written! That's something. And I am always working on this website. This one you're on right now. It will always be expanding. I will always be rewriting it as well.
Other things are rolling, of course. Like I have said before, I don't like wasting time, and I don't. I work on stuff every day. I've finally come to grips to admitting that I'm a workaholic. Admitting to it is a step in the right direction, I suppose, but beyond that seems hopeless. I really can't imagine going a day without working. Maybe that is why this trip will be so very healing for me. It will force me to slow down, meditate, and do some self-reflection, but since it is for work, I am willing to do it. In a sense, I am tricking myself into relaxing! That probably sounds like the schemes of a lazy person, but if you only knew how badly I work myself into the ground, you'd understand.
You know, now that I'm typing this, I can see clearer what this is. Ha! Maybe I have been plotting this project for a long time in order to change my entire working process because I physically can't carry on the way I used to, and I'm doing it all this way because I can't admit it to myself any other way. I'm thinking this because I did something pretty similar almost 20 years ago when I could not play music professionally anymore.
Ooookay. That's going to be a whole 'nother blog post!
Back to the subject at hand.
My Carol Es un Monographie de Lignes books are almost finished! They are being bound right now, and then, we are talking maybe a week or so. I mean, not long. I'm so close! Can you believe it? I can't! All that, thanks to Bill Roberts of Bottle of Smoke Press! Once that is done, I will be starting on the colored pencil drawings for the ones that are being rewarded to my magnificent Exodus donors!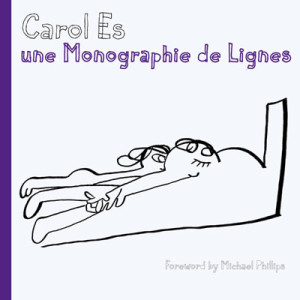 Speaking of which, please – everyone – send in your mailing addresses! Especially yous that are getting a postcard from Joshua Tree because I will be mailing those from the desert!
I just scored some classic JTree postcards from the 1930s through the 1960s on eBay! Sometimes, I love eBay.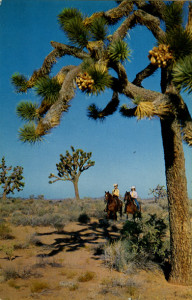 Lastly, I know how premature this is, but I actually made my first quick sketch for the project. I know I'm not even out there (in the desert) yet, but I couldn't get this image out of my mind. Not only that, but I know more are coming because once I did it, it wasn't quite right and I know that feeling I get when I try to match the imagery in my brain – as foggy as it is – a kind of obsession begins to percolate. I want to draw it over and over, maybe paint it, maybe paint it a lot… I'm not saying this is going to get to that point. I have absolutely no idea! It's just a little sketch right now. A sketch with the feeling of making at least another, at least until I capture what I want.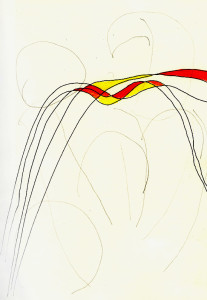 What do I want? To isolate a rock with different shadows from other rocks hitting it near the top. I want those shadows to look like curving shards, and if I can't find a rock like that, I will find one that almost looks like it, and invent the rest. I want those shard-shaped shadows to get colored in, in red, oranges and yellows, and dammit, it just has to be right, and it has to be over a "yud" in the upper right hand corner of the canvas with a fragile, scaffolding holding the yud up in place, done crudely in light pencil.
I think I should go now and give you all a new update as I move further along. I'll try not to wait so long and leave things pile up, that way I'll make shorter blog posts. Wait…me, make a short blog post? You've gotta be kidding, right?