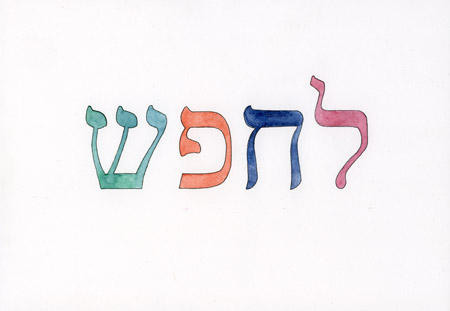 Not that I post all that much on either blog, but I have been posting more on my regular bloggie than I have here, and for that, I apologize. For all I know I have different reader(s) here than I do on there. And maybe it's been confusing having two blogs, I'm not sure, but that's what has happened my friends. What can I tell you? One blog is a little more specific than the other, especially since this one will self-destruct in five…four…three…two…
Okay, it won't self-destruct. It's not going to go away, because it's specific to the Exodus Project and the exhibition henceforth, even though a few other odds and ends from my life may seep in through the cracks.
Like correcting my tattoo the other day. I've had the word "seek" written in Hebrew on my arm for a few years now, but it was an antiquated spelling of it, and before I really knew how to read Hebrew. Not that I can really read it now, but I can understand how to read it, if that makes sense.
I love the work "seek" for many reasons, and in Hebrew it means many more things than it does in English. It means to look for or seek out God, to investigate, to search by asking, or to strive to an effect. And if you're super religious, Amos Chapter 5: 4-14 says a bunch of stuff about seeking God and living: Seek me and live; Seek the Lord and live. But seek not Bethel. Basically, Seek good and not evil in order that you live with having God within you.  
It's also in Deuteronomy 4:29: seek the Lord your God, and you will find Him, if you seek Him with all your heart and with all your soul.
Anywho, the tattoo was just three letters without any vowels, like in the above picture without the letter that looks like a giraffe, so it was: hei-pey-shin. Really, it should have been Lamed-hey-pey-shin. Not only that, my "pey" was really a "fey" because it didn't have a dot inside of it, which makes it a "pah" sound instead of a "fff" sound.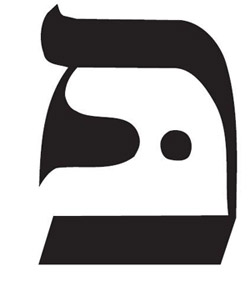 With all the vowels in place, the word looks like: לְחַפֵּשׂ and it's pronounced, L'hapas (I'm pretty sure!)
Anyway, maybe by the time I'm done writing this blog entry, I can have mjp snap a picture of it on my arm, but it's still healing right now.
But I mustn't forget to state that I went to Shoe Box Tattoo so that Lantz Huston could do this particular tattoo since he is the one that did my entire sleeve in the first place a few years back. He has the Midas touch – absolutely for sure.
However, that was not what I came here to talk about. No. It was not. Nah ah.
I came to talk about how my progress for the exhibition has been going. Really. And I don't care if you don't believe me.
It's been going well. I've been busy. Really, really busy. But even though I've been running a little behind schedule, I am feeling like I'm starting to catch up finally and get things under control, and that is beginning to feel pretty great.
I'm an organized kind of person. I have most things for this show on a timeline – at least the things that are within my control. The movie is not totally in my control since I am working with a collaborator(s) and there are plenty of things that are worked on (or not) when I'm not around.
There are only 13 weeks left until installation, and I still have six paintings to complete on one of my my "to-do" lists, but half of them are smaller pieces. However, the smaller pieces take up just as much time as the larger ones!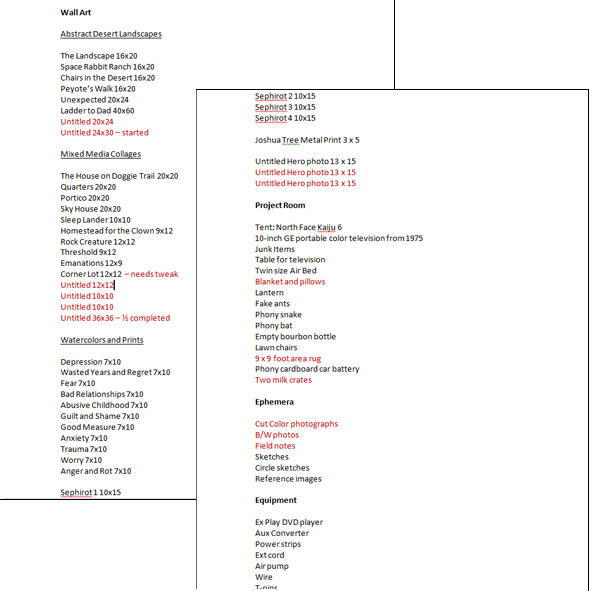 Luckily, I only have two of the landscapes left to do and those take the absolute longest to do. I actually was going to do three more, but I just can't. Anne, my curator, relieved me of one of those paintings, and for that I am grateful! It removed much stress for me.
For some reason I have a couple "to-do" lists for the show, like the one above, and I have another one about documentation, promotional stuff, and all the writing I have to do. All I know is that I have to write down stuff I need to do so that it's not just floating around in my head. That would make me insane.
And I actually use Google Calendar for my scheduling, instead of spreadsheet. It's much easier and it even emails me reminders ahead of time. I highly recommend it.
Not only that, the Google Calendar has taught me to schedule out my days so that I don't bite off more than I can chew in one day. I don't write more than three tasks in that little box, otherwise it looks ridiculous, and if I don't finish them all, I just move it to the following day. If it loads up too much during the week, I learn to pace myself better and I stop over-tasking myself.
What do you care about this stuff anyway? I just can't stop typing. This has got to be the most boring crap on the planet Earth!
I guess I'll stop typing now.
Goodbye.
Oh here's a tattoo pic, but it's now scabbing, so it's doesn't look very nice right now.